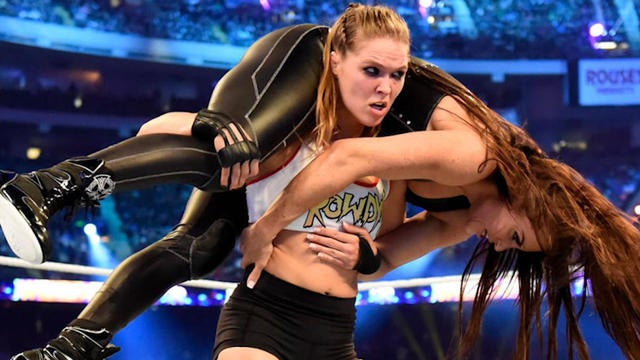 Ronda Rousey shines in Wrestlemania 34
As WWE continues to struggle through a recent case of the post-WrestleMania creative blues, there wasn't much optimism for fans and critics alike entering Monday's edition of Raw that anything substantial might take place. That turned out to be a sage prediction this week as a tape-delayed episode from the O2 Arena in London added a few more names to the June 17 Money in the Bank matches but failed to do much more.
Save for some escalation in the Roman Reigns-Jinder Mahal and Kevin Owens-Kurt Angle feuds, this was three hours of pro wrestling that largely felt like it was going through the motions. Some of that may have to do with the international crowd, which was curiously meek despite some strong in-ring action at times throughout the night.
Let's take a closer look at what went down as Raw took a trip across the pond.
Big fan of WWE? Subscribe to our podcast — In This Corner with Brian Campbell — where we go in depth on everything you need to know in WWE each week.
Roman Reigns gets revenge on Jinder Mahal
Opening the show to boos, Reigns challenged Mahal to "come out and face me like a man" after last week's attack cost Reigns a spot in the Money in the Bank match. Raw general manager Kurt Angle came out to interject, telling Reigns it's "best for business" to think logically as a leader and allow Mahal his own shot at MITB later in a triple threat. After Reigns suggested making it a four-way by adding him, Angle said, "WWE management has made it perfectly clear that you will have no more qualifying opportunities," which sent the crowd chanting "Yes!"
Choosing to take matters into his own hands, Reigns walked backstage to attack Mahal. A wild brawl ensued as both were sent flying into walls and barricades. The fight spilled back onto the stage where Mahal was laid out with a Superman punch before Angle and company restrained Reigns. Despite injuring his ribs, Mahal was later told twice by Angle that the MITB qualifying match could not be postponed and that he must fight. As Mahal struggled to limp from the trainer's room to the arena, Reigns came out of nowhere to spear him through a makeshift wall. Despite the assault, Angle insisted that the triple threat match must go on and that a replacement must be found.
The crowd's reaction to Reigns all night told WWE what they think about this storyline. Outside of giving Reigns his due for the dramatically stiff spear he landed on Mahal in one heck of a fun spot, there really isn't anything good going on here. WWE continues to present Reigns as either a sympathetic babyface or an anti-establishment hero fighting against the machine. Neither plan is producing positive crowd reactions, and to make matters worse, WWE creative can't seem to pick a direction and stick with it. Grade: C
When you stand between @WWERomanReigns and a #MITB opportunity, you PAY the CONSEQUENCES! #RAWpic.twitter.com/ZGz9oIdriw

— WWE (@WWE) May 15, 2018
Three more qualify for MITB matches
After Owens lost his intercontinental title match against Seth Rollins (see below), he ran backstage to beg Angle for a rematch. Despite his request being denied, Owens threatened to call Raw commissioner Stephanie McMahon, who is still sore at Angle over their match at WrestleMania 34. The threat became a reality later on when Angle fielded a backstage phone call from McMahon and was ordered to provide Owens with another opportunity, in place of the injured Mahal.
Bobby Roode def. No Way Jose (via pinfall) and Baron Corbin: Jose had plenty of offense in this one as his push continued. The London crowd, however, never quite bought into…
Work from home mom dedicated to my family. Total foodie trying new recipes.Love hunting for the best deals online. Wannabe style fashionista. As content editor, I get to do what I love everyday. Tweet, share and promote the best content our tools find on a daily basis.
Latest posts by Mayra Rodriguez (see all)