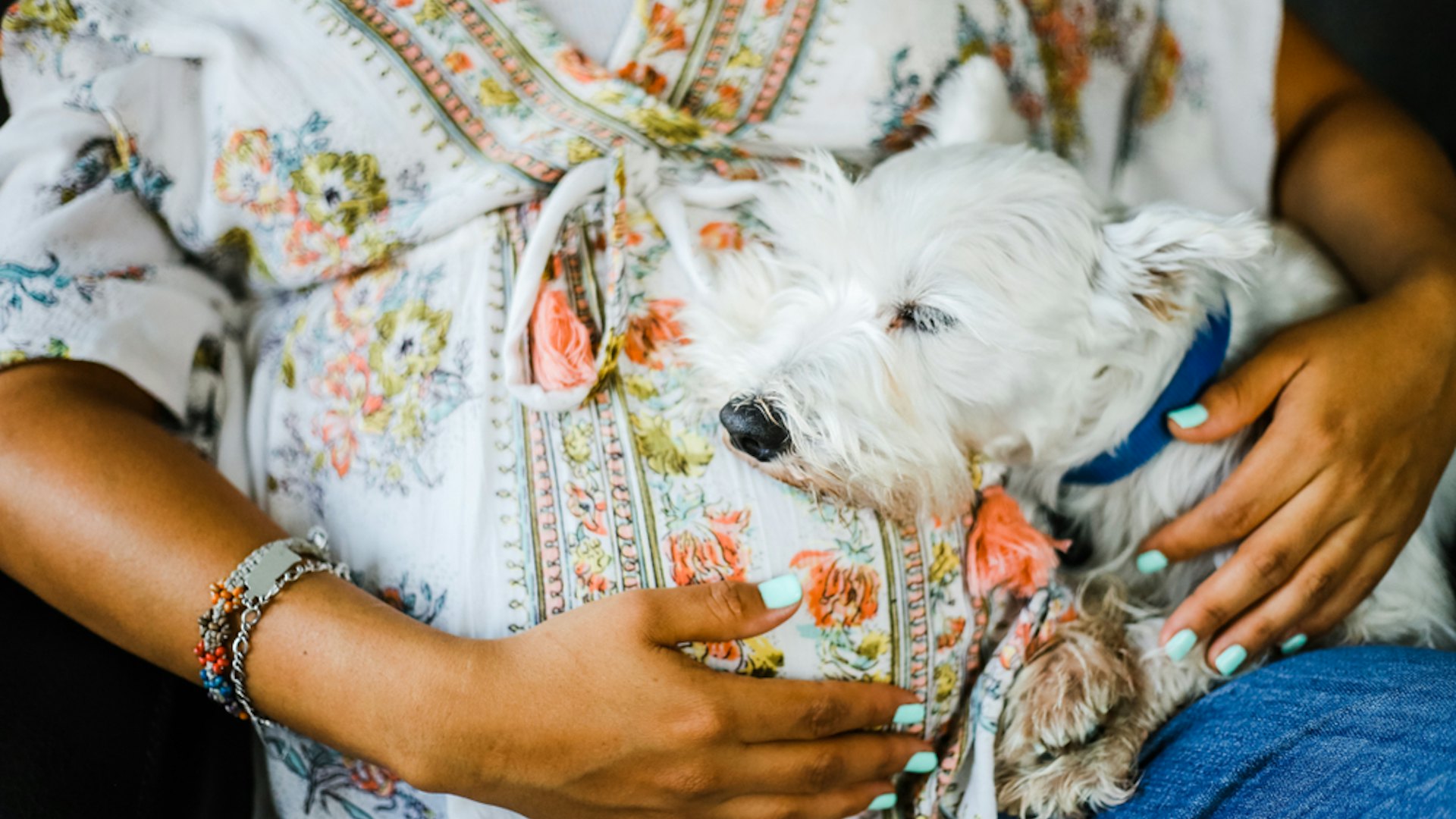 Lexlux/Shutterstock
When I first told my husband I thought our dog was acting differently toward me during this pregnancy, he didn't believe it. "There's no way he can tell," he scoffed. Fast forward a few months, and my husband's a believer. I've got a 20-pound guard dog glued to my side at all times, following me to the bathroom, "protecting" me from just about everything, and always snoozing on my baby bump whenever I'm still. Turns out, this behavior isn't unique. Why are dogs so obsessed with sleeping on their pregnant owner's belly, and how on earth do they even know?
My little rescue mutt Jack's behavior started changing long before any bump was evident to the rest of the world, and apparently his powerful snout may be the reason. "When you're pregnant, all the hormones flooding your body are likely to alter your scent somehow. Not much gets by the canine nose, so there's a chance your dog caught wind of a change in you – maybe even before you did," according to Animal Planet. In early pregnancy, your dog may not know exactly what is happening, but they may detect something is different and start paying closer attention.
Of course, it's not long into pregnancy when the more observable changes begin. "Overall dogs (and cats) can be very sensitive to new changes in their home. Whether it's moving, new people in the house, or even rearranging furniture," Dr. June Wiley, DVM at Banfield Pet Hospital, tells Romper. Additionally,…
Work from home mom dedicated to my family. Total foodie trying new recipes.Love hunting for the best deals online. Wannabe style fashionista. As content editor, I get to do what I love everyday. Tweet, share and promote the best content our tools find on a daily basis.
Latest posts by Mayra Rodriguez (see all)