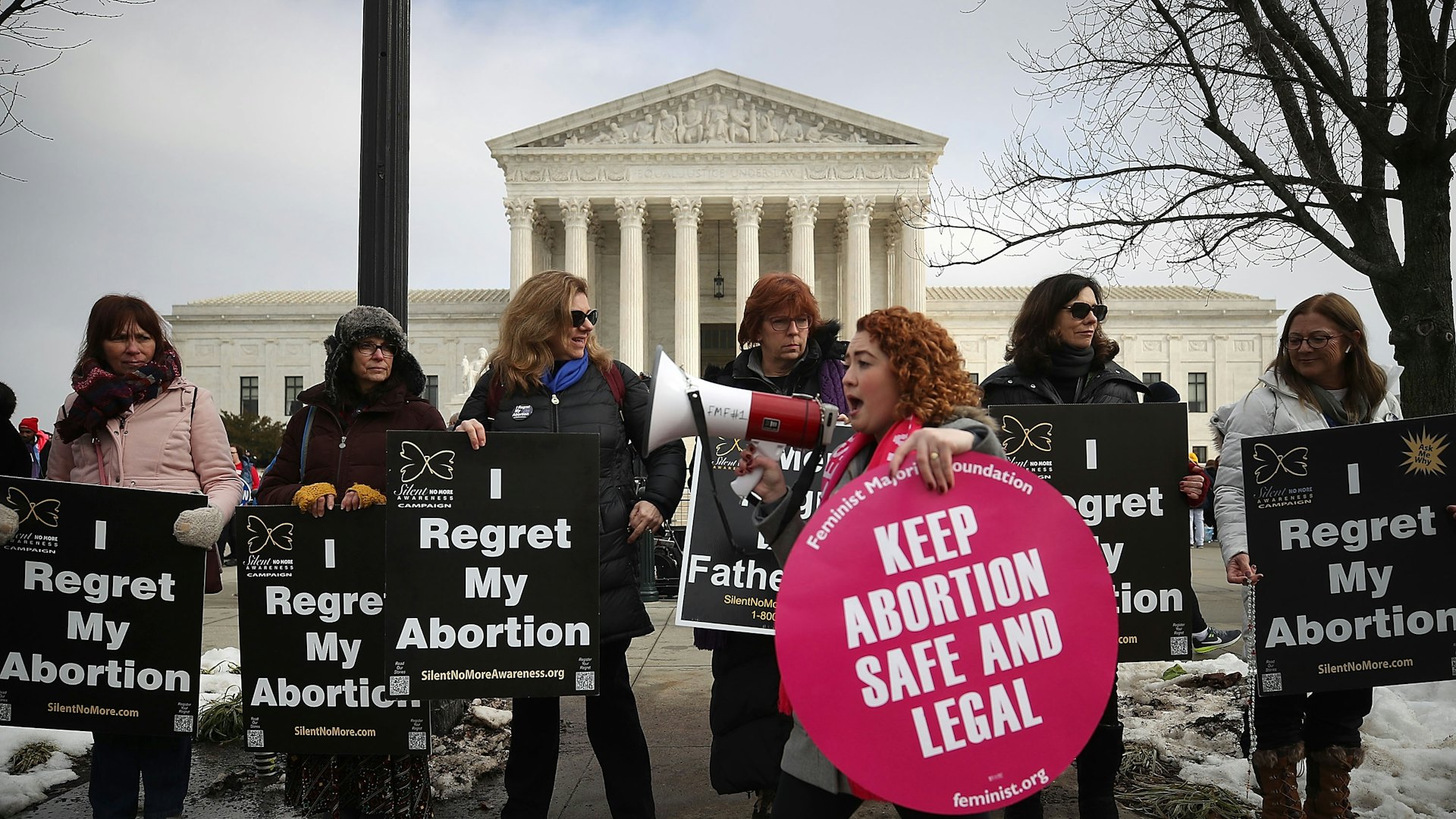 Ohio became the latest state on Thursday to sign into law one of the country's most stringent abortion laws, joining a league of states that are set to ban or have already banned abortion at six weeks. So, which states have banned abortion at six weeks? Here's what you need to know.
The abortion law, dubbed "heartbeat bills" by advocates, prohibits abortions after detection of a fetal heartbeat during an ultrasound, which doctors say can be as early as five or six weeks into the pregnancy. This is oftentimes before women, trans, and non-binary individuals know they are pregnant. Ohio's version of the billwould subject doctors who perform an abortion after the detection of a fetal heartbeat would be subject to a $20,000 fine from the state medical board, could have their medical licenses suspended or revoked, and could face up to a year in prison, according to The Hill and NPR.
The ban, signed into law by Gov. Mike DeWine of Ohio — in stark contrast to the two-time veto of a similar bill by his predecessor former Gov. John Kasich — late last week is part of a wide-sweeping effort at the state level to ban abortion. States like North Dakota, Arkansas, Kentucky, Iowa, and Mississippi have also passed similar laws, according to The Hill, however, many of the passed abortion bans in these states have been reviewed or thrown out by the courts. Mississippi's law is set to take effect in July, according to the Associated Press.
Meanwhile, similar heartbeat bills have advanced in one chamber of state legislatures in Missouri and Tennessee, according to USA Today, and may be on their way to pass in the near future. The legislation has been introduced in Florida, South Carolina, Louisiana, Minnesota, Illinois, Maryland, New York, and West Virginia.
For many anti-abortion activists and conservative leaders, this is an opportunity…
Work from home mom dedicated to my family. Total foodie trying new recipes.Love hunting for the best deals online. Wannabe style fashionista. As content editor, I get to do what I love everyday. Tweet, share and promote the best content our tools find on a daily basis.
Latest posts by Mayra Rodriguez (see all)