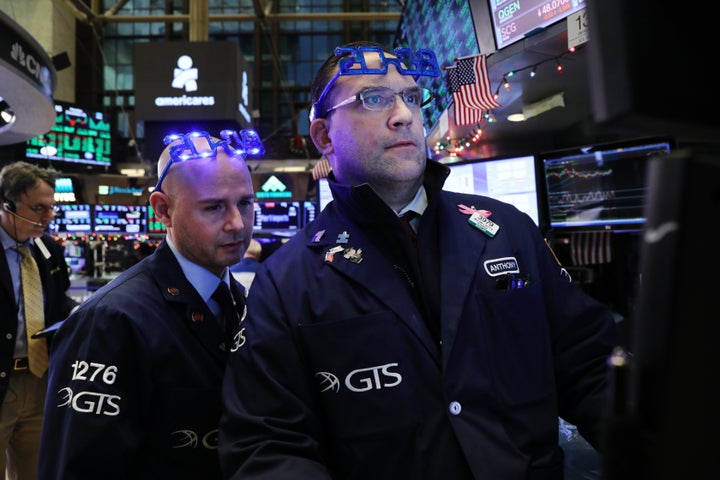 Wall Street closed out a dismal, turbulent year for stocks on a bright note Monday, but still finished 2018 with the worst showing in a decade.
After setting a series of records through the late summer and early fall, major U.S. indexes fell sharply after early October, leaving them all in the red for the year.
The S&P 500 index, the market's main benchmark, finished the year with a loss of 6.2 percent. The last time the index fell for the year was in 2008 during the financial crisis. The S&P 500 also posted tiny losses in 2011 and 2015, but eked out small gains in both years once dividends were included.
The Dow Jones Industrial Average declined 5.6 percent. The Nasdaq composite sank 12.2 percent.
Major indexes in Europe also ended 2018 in the red. The CAC 40 of France finished the year down 11 percent. Britain's FTSE 100 lost 12.5 percent. Germany's DAX ended the year in a bear market, down 22 percent from a high in January and 18 percent from the start of the year.
"This has really been a challenging year for investors," said Jeff Kravetz, regional investment strategist at U.S. Bank Wealth Management. "This was really the year that market volatility returned with a vengeance."
Wall Street started 2018 strong, buoyed by a growing economy and corporate profits. Stocks climbed to new highs early, shook off a sudden, steep drop by spring and rode a wave of tax cut-juiced corporate earnings growth to another all-time high by September. Then the jitters set in.
Investors grew worried that the testy U.S.-China trade dispute and higher interest rates would slow the economy, hurting corporate profits. A slowing U.S. housing market and forecasts of weaker global growth in 2019 stoked traders' unease.
In October the market's gyrations grew…
Work from home mom dedicated to my family. Total foodie trying new recipes.Love hunting for the best deals online. Wannabe style fashionista. As content editor, I get to do what I love everyday. Tweet, share and promote the best content our tools find on a daily basis.
Latest posts by Mayra Rodriguez (see all)