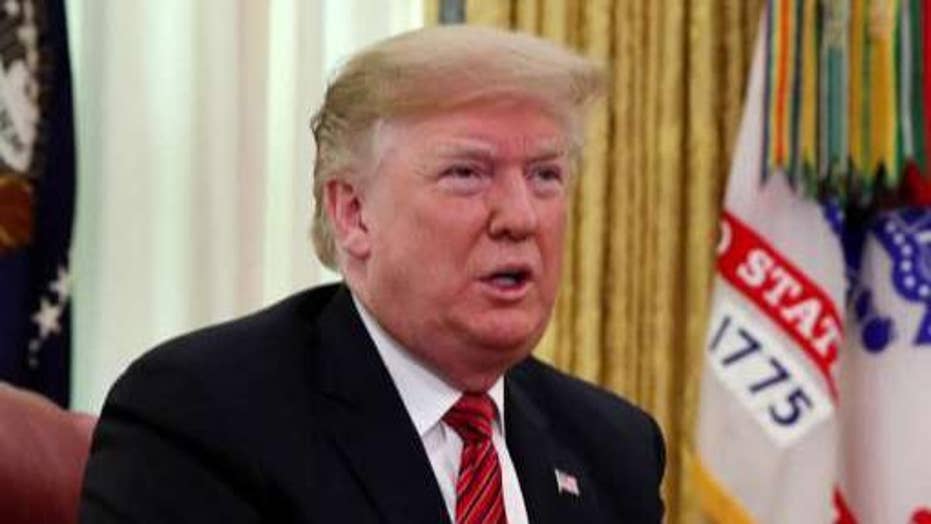 In an exclusive interview set to air during Fox News' 'All-American New Year' special Monday night, President Trump suggested that only Massachusetts Democratic Sen. Elizabeth Warren's "psychiatrist" knows whether she thinks she can win the White House in 2020.
Warren announced Monday she is filing paperwork to launch an exploratory committee for president, becoming the first candidate to take the major step toward a 2020 run for the presidency.
Fox News' Pete Hegseth asked Trump whether Warren really thinks she could make him a one-term president.
"Well, that I don't know," Trump responded. "You'd have to ask her psychiatrist."
CATCH THE FULL INTERVIEW ON FOX NEWS' 'ALL-AMERICAN NEW YEAR' SPECIAL, 10 PM ET
Warren, a liberal firebrand who rose to prominence during the 2008 financial crisis, angered many top Democrats and Native American groups in October by releasing inconclusive DNA test results in response to Trump's claims that she repeatedly lied about her heritage to obtain affirmative-action benefits in the course of her academic career.
The Cherokee Nation responded to the results at the time by asserting that "a DNA test is useless to determine tribal citizenship." And Kim TallBear, an associate professor at the University of Alberta, remarked that Warren's "very desire to locate a claim to Native American identity in a DNA marker inherited from a long-ago ancestor is a settler-colonial racial understanding of what it is to be Native American."
"Elizabeth Warren will be the first," Trump told Hegseth in the phone interview. "She did very badly in proving that she was of Indian heritage. That didn't work out too well."
According to Warren's DNA analysis, "the vast majority" of Warren's family tree is European and there…
Work from home mom dedicated to my family. Total foodie trying new recipes.Love hunting for the best deals online. Wannabe style fashionista. As content editor, I get to do what I love everyday. Tweet, share and promote the best content our tools find on a daily basis.
Latest posts by Mayra Rodriguez (see all)