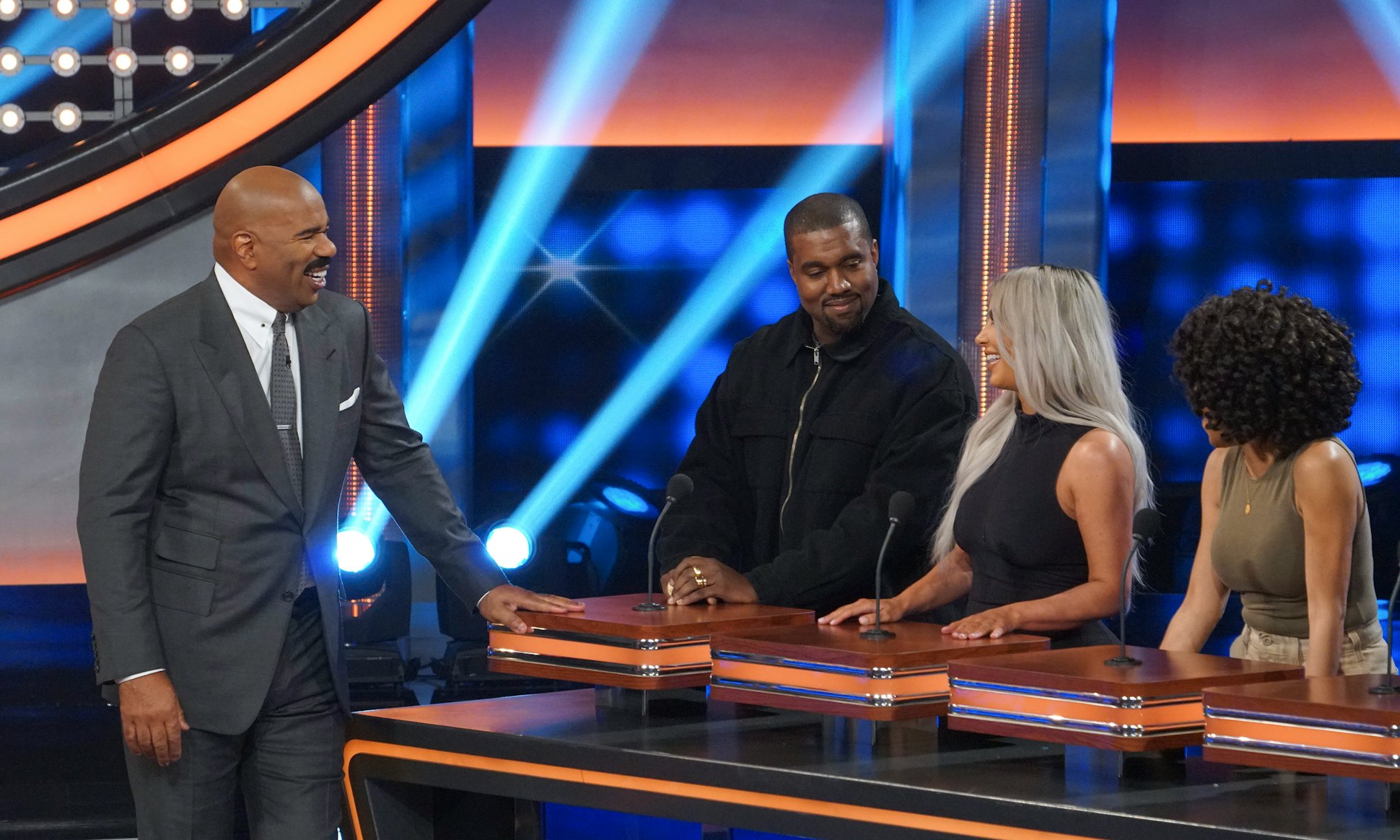 Which member of the Kardashian family is super serious about Family Feud? Survey says: Kanye West. In a new clip from the Kardashian-Jenner episode of Celebrity Family Feud, it's clear that West came to win and the rest of his family might not have been ready for it. "I'm here to win bro. I'm here to win," West told Steve Harvey in the footage, and you better believe him.
In the episode, airing Sunday, June 10, Kim Kardashian is ditching her biological family to play for Team West, which includes her husband, his aunt Kim Wallace, his cousin Jalil Peraza, and G.O.O.D. Music A&R Ricky Anderson. As for Team Kardashian, the group includes Kris Jenner, Kendall Jenner, Khloé Kardashian, grandmother Mary Jo Campbell, cousin Cici Bussey, and Kim's bestie Jonathan Cheban, who flew in especially for the taping. Now that's a good friend — or someone who's a really big Family Feud fan.
What you may have noticed is the Kardashian team seems to have an extra player or two, but it doesn't appear to be an advantage since West seems to be up on the Feud's polling results. (Specifically, he knows why people would say Steve Harvey is a good kisser. It's his lips, of course.) Though, let's not discount Khloé here, since she lets Kim know she isn't afraid to out-buzz her older sister, clapping back, "Not today."
Whatever happens at the end of this, don't worry, this episode, which…
Work from home mom dedicated to my family. Total foodie trying new recipes.Love hunting for the best deals online. Wannabe style fashionista. As content editor, I get to do what I love everyday. Tweet, share and promote the best content our tools find on a daily basis.
Latest posts by Mayra Rodriguez (see all)