Up to 1,000 children's centres in England, designed to provide support to parents and young children, have been shut since 2009, according to recent research for the Sutton Trust charity. These closures have often been somewhat hidden, with centres merged, renamed or their focus shifted. Yet such changes represent a significant loss which will impact the lives of many parents and young children.
Sure Start centres first appeared in 1998 in England, as part of a flagship Labour policy to focus resources on children under five and their parents. The centres, which were initially only in certain deprived areas and were later rolled out nationally, provided support to parents and young children, including play sessions, parenting support, health, education, employment support and more.
They were designed to be in "pram-pushing distance", and for many became a lifeline during the difficult and isolating early days of becoming a parent. My research found that open access "drop in play" sessions were often particularly valued as key spaces for support and socialising for parents from a range of backgrounds, as well as a point of access to other services.
Austerity cuts
The centres became a victim of austerity cuts from 2010 onwards, as local authority budgets were squeezed and funding was no longer ring-fenced for the centres. These cuts have often involved reorganisations, the merging of centres and some closures.
In the meantime, messages from central government have been confused or absent. A government review of the centres was announced in 2016, but never took place. OFSTED inspections ceased in 2015, a clear signal of the withdrawal of resources around the centres.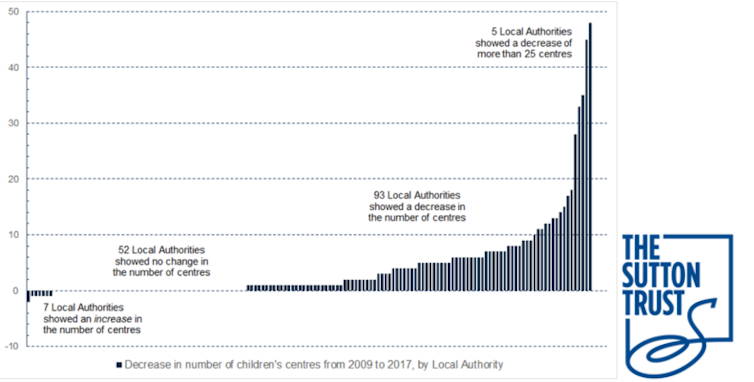 Rebranded centres
However, in recent months, something different appears to be going on. The authors of the Sutton Trust report suggest that since autumn 2017, there is strong evidence pointing to "a rapid increase in the number of closures and reorganisations to children's centres". Not only have numerous local authorities made reductions to services, they have dismantled existing children's centre provision entirely. Many local centres have been shut, while others have been rebranded.
New names are being given to children's centres including hubs, super-hubs, satellite centres, well-being centres, family places, early help bases, or outreach centres. It's often unclear what these new names mean for the people who use them.
Such service "transformations" have different emphases, but common features, such as the closure of the majority of existing local centres to be replaced with a smaller number of "hubs". For example, Oxfordshire replaced 44 centres with 19 hubs in 2017 – despite the intervention of former prime minister David Cameron's own family – and Buckinghamshire is currently proposing to replace 35 centres with nine hubs.
…
Work from home mom dedicated to my family. Total foodie trying new recipes.Love hunting for the best deals online. Wannabe style fashionista. As content editor, I get to do what I love everyday. Tweet, share and promote the best content our tools find on a daily basis.
Latest posts by Mayra Rodriguez (see all)