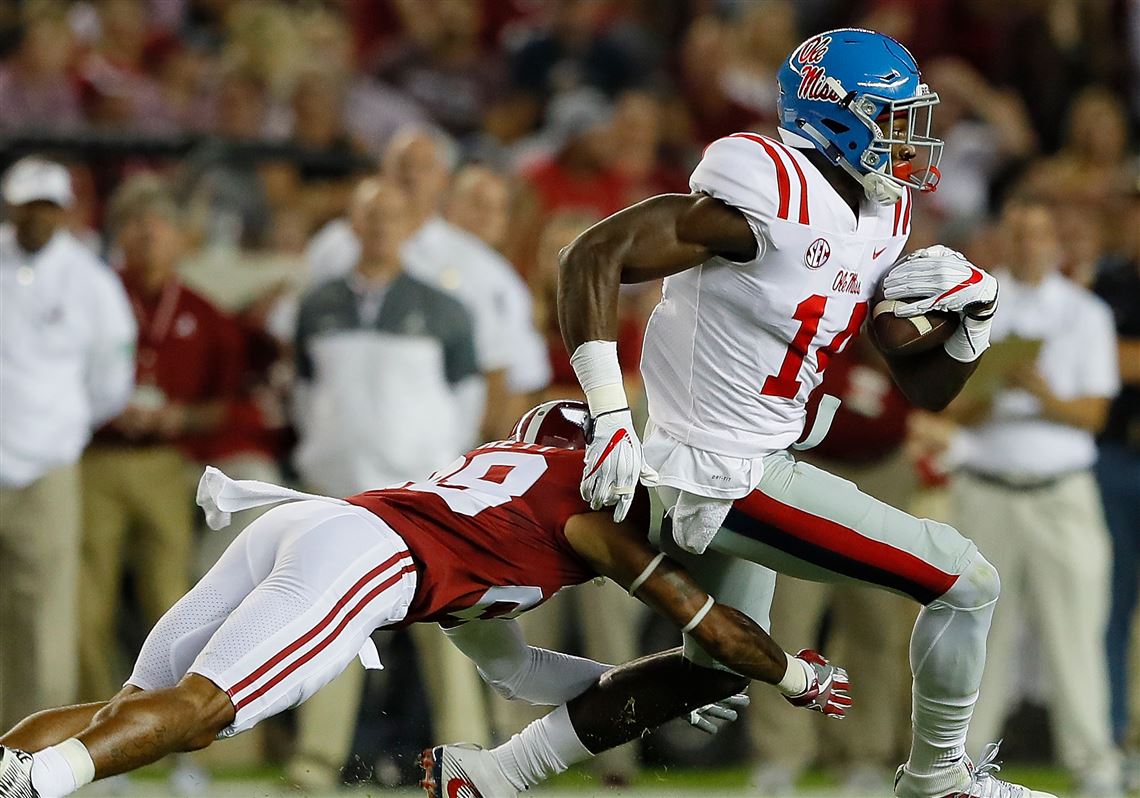 No one really knows how the Antonio Brown saga will end. It's the middle of February, and there is still another month to go before the Steelers can finalize any trade involving their disgruntled All-Pro receiver.
If the Steelers do trade Brown, they will immediately be in the market for a receiver in the draft to replace him on the 53-man roster. The 2019 NFL draft is shaping as a defensive draft, but receivers of all shapes and sizes will be available in April.
If Brown is not on the roster next season, the Steelers would be in need of a receiver who could replace Brown's big-play ability. Brown is one of the best receivers in the NFL because he can do everything. He can catch short passes and get yards after the catch, and he can go deep on long passes and make big plays. Good luck getting that in a rookie. It's probably not going to happen.
The Steelers might have to settle for a player who can do one of those things well and incorporate that player into their offense accordingly.
Luckily for the Steelers, a number of players could be viable options. Here are the top 10 receivers in this year's NFL draft:
1. D.K. Metcalf, Mississippi – The first thing that stands out about Metcalf are his hands. He can go up and grab balls away from defenders, and he has a flair for acrobatic one-handed catches. When it comes to highlight reel plays, Metcalf blows the rest of this year's receiver class away. His 6-foot-4, 225-pound frame is another positive, especially for a team like the Steelers, who are looking for a big receiver who can serve as a deep threat. The questions surrounding Metcalf are his health and speed. His junior season ended after seven games due to a neck injury. That injury will be checked at the combine, where teams also will get a true gauge on his speed as well. Metcalf demonstrated a consistent ability to get behind SEC corners last season. He had 26 catches for 569 yards and five touchdowns in those seven games he dressed. In 12 games as a sophomore, he also showed big-play ability when he scored seven touchdowns on 39 receptions. If Metcalf runs well at the combine, he should go in the top half of the first round. If he doesn't run well he could slide some, but not very far. He has the potential to become a star if he lands with the right team.
2. Marquise Brown, Oklahoma – Let's get to the most intriguing part first: Marquise is Antonio Brown's cousin. How that would factor into the Steelers' decision-making on the possibility of drafting him is fascinating. Obviously, they'll do their homework and they'll have to get comfortable with him on a personal level if he checks out OK from a character standpoint. Even if they do there would always be something in the back of Art Rooney II's brain that Marquise could turn on the organization the way his cousin has. As far as talent and fit goes, Marquise Brown would be perfect for the Steelers. What Randy Fichtner's offense needs most is a speedy big-play threat. Brown provides that in spades. He is said to run sub- 4.4 in the 40-yard dash. Even if he's slightly slower than that at the combine, he's still expected to be among the fastest players in this year's draft class. As a junior last season, Brown had 75 catches for 1,318 yards and 10 touchdowns. The concerns are his size — he's 5-10 and weighs just 168 pounds — and his inability to consistently make tough catches in traffic. However, his ability to get open minimizes that, and his athletic traits make him a viable option any team needing a receiver in the first round.
3. A.J. Brown, Mississippi – Brown entered the 2018 season as the top receiver…
Work from home mom dedicated to my family. Total foodie trying new recipes.Love hunting for the best deals online. Wannabe style fashionista. As content editor, I get to do what I love everyday. Tweet, share and promote the best content our tools find on a daily basis.
Latest posts by Mayra Rodriguez (see all)