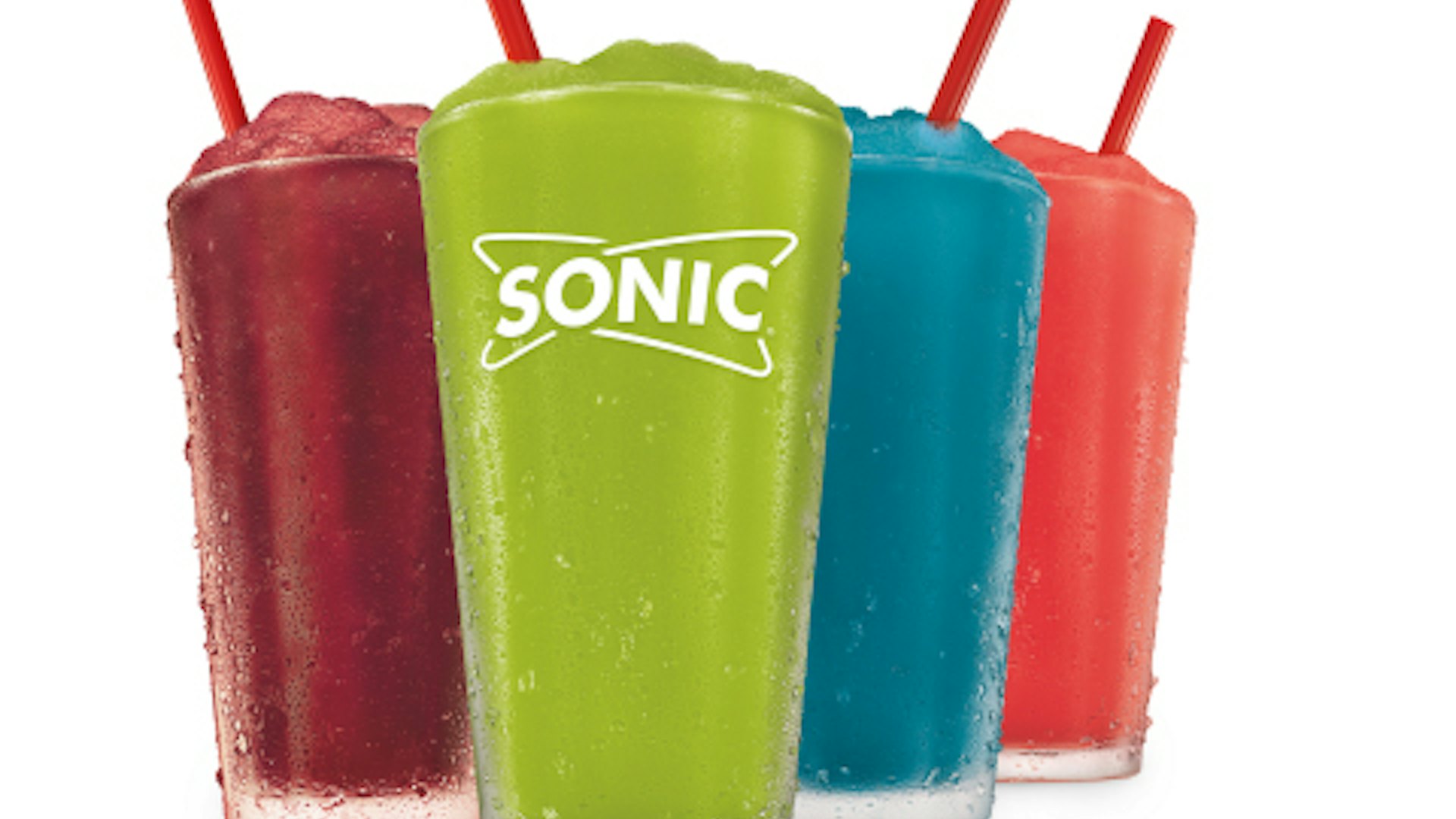 If you've ever been with-child, then you're probably well aware that pregnancy can do some pretty wild things to your body. Between extreme fatigue, nausea, aches and pains, bloating, gas, heartburn, breast tenderness, food aversions, and food cravings, growing a human with your body is no easy feat. In pop culture, though, it's the cravings that seem to get the most attention — with pickles and ice cream being two of the most popular, must-have items. But what if someone were to combine these concepts? Well, one fast-food chain just did. Well, sort of. That's because Sonic's pickle juice slush has officially arrived and it'll, hopefully, fulfill all of your wild pregnancy cravings.
On Monday, June 11, Sonic launched four new limited-time flavors at 3,500 locations nationwide — just in time for summer, as USA Today reported. Among the fast-food chain's new flavor lineup of snow cone slushes are: Tiger's Blood, Blue Hawaiian, Bahama Mama, and Pickle Juice.
"Sonic's guests are game to try adventurous and fun flavors, so we've made it our mission to deliver the best of both worlds when it comes to innovation and variety," Scott Uehlein, vice president of product innovation and development for Sonic, said in a news release. "The entire Snow Cone Slush lineup — including Pickle Juice, Bahama Mama, Blue Hawaiian and Tiger's Blood — has a distinctly summertime vibe, allowing our guests to create new summer memories."
If you're curious about what a pickle juice-flavored slush might taste like, you're not alone. Luckily, Food & Wine was privileged enough to test out the intriguing treat at Sonic's Oklahoma City headquarters. Food & Wine described it as "sweet and tangy," but that consumers are sure to "keep going back for more sips, likely until it's all gone." The only complaint? According to Food & Wine, the drink was apparently a bit too sweet. Hmmm. So…
Work from home mom dedicated to my family. Total foodie trying new recipes.Love hunting for the best deals online. Wannabe style fashionista. As content editor, I get to do what I love everyday. Tweet, share and promote the best content our tools find on a daily basis.
Latest posts by Mayra Rodriguez (see all)