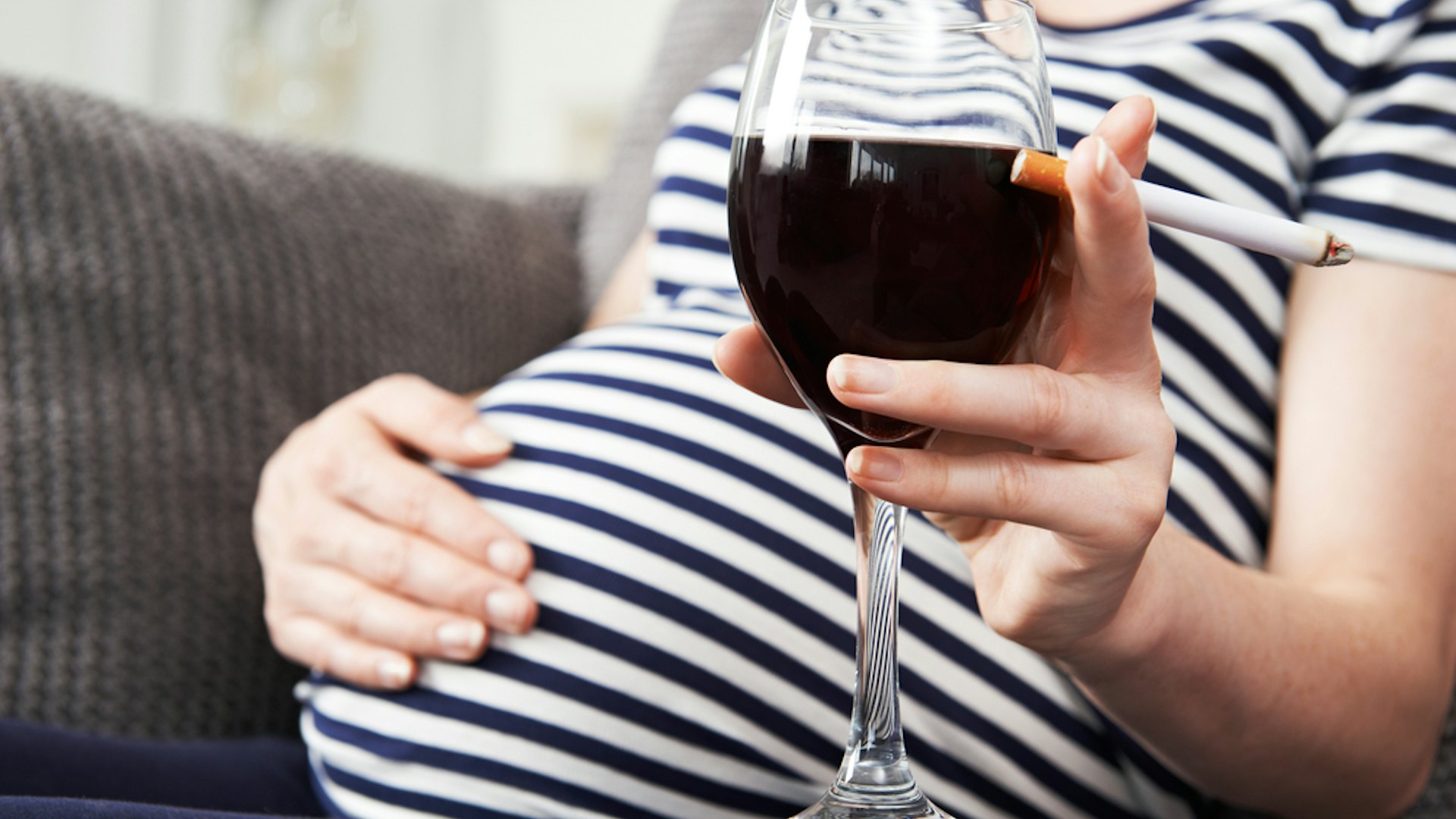 Mothers-to-be are expected to give up a lot for the health of their future children. That extra cup of coffee, sushi, and after work drinks become a thing of the past — at least for those crucial months. But despite extensive research proving the risks, smoking and drinking during pregnancy is still a problem, according to a study conducted in the United Kingdom. Rather than heed the warnings of their health care providers, women are smoking cigarettes and drinking alcohol behind closed doors to avoid public judgement.
Researchers from Cardiff Universityinterviewed expectant women to determine their smoking and drinking habits while pregnant, as well as their feelings about the experiences. According to statistics released by the Welsh government — where Cardiff University is located — 21 percent of women in the country are still smoking when they attend their first prenatal appointment. Some of these women reported feeling "irritated and alienated" by those around them if they smoked or drank in public, according to the BBC.
The women who participated in the study reported "awkward" relationships with their midwives due to smoking and drinking habits, as well as a "judgmental tone" of advice, according to MSN.
Ultimately, feeling judged made the women less likely to seek support for their smoking and drinking.
And while some women also reported that they were judged negatively by their partners for choosing to smoke or consume alcohol, others reported that their significant others encouraged them to drink alcoholic beverages while at home, according to The Independent.
Negative feedback from partners and midwives did little to stop women from smoking, according to MedicalXpress. Instead, they just began to do so in private, and told researchers that they believe it is "acceptable" for pregnant women to make these choices behind closed doors.
In response to these findings, researchers recommended that concerned parties employ empathy instead of judgement. Study author Dr. Aimee Grant, from Cardiff University's Centre for Trials Research, told the BBC as much. "Moral judgements are commonly directed towards mothers through reference to health behavior in pregnancy,…
Work from home mom dedicated to my family. Total foodie trying new recipes.Love hunting for the best deals online. Wannabe style fashionista. As content editor, I get to do what I love everyday. Tweet, share and promote the best content our tools find on a daily basis.
Latest posts by Mayra Rodriguez (see all)