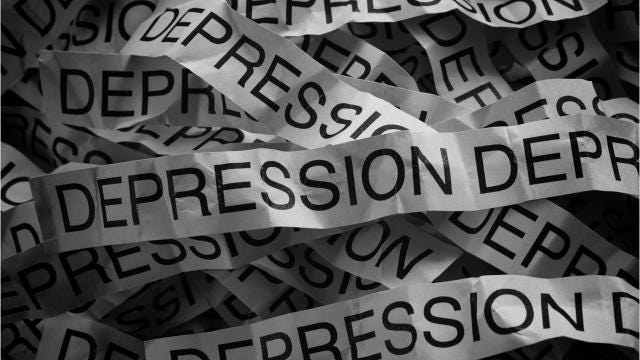 Learn some quick facts about depression and see how the signs can manifest differently in men, women and children. Daniel Finney / The Register
I recently paid my friend Megan Gogerty, a fellow East High School alum and playwriting instructor at the University of Iowa, a compliment on how measured and thoughtful she is — especially when she talks me through some crisis of depression or anxiety.
I gushed that Megan always seemed so poised and that I admired and envied those qualities in her.
Megan countered with more wisdom: "You get the greatest hits version of me. You don't see all the messy stuff behind the scenes."
I thought of Megan's "greatest hits" theory when I visited Dr. Stephen Mandler, chief medical officer for Orchard Place, the Des Moines institution that helps children with mental health issues from infancy to age 22.
Mandler moved to Des Moines from Wyoming in July and took the reins of Orchard Place in August.
He's a tall man, expressive with his hand gestures and slightly fidgety. But he looks you straight in the eye and has the kind of serenity that good psychiatrists and psychologists have.
His office at Orchard Place's Porter Avenue campus is a mix of the usual framed degrees and certification, coupled with a giant pink dollhouse for young patients and a lot of elephants — elephants embroidered on pillows, a stuffed elephant and even an elephant statue wearing a unicorn mask.
"I have a thing for elephants," he said.
I met with Mandler to talk about what barriers he sees to families seeking treatment for children with mental health struggles.
Doctor: Shame prevents parents from getting mental health help for kids
One major barrier is our culture, what Megan described as the "greatest hits" problem. Mandler describes it this way:
Our entertainment and social media "do us a disservice," he said. "We only post the photos that make us look the best. We only talk about the exciting things going on in our lives. We give the impression that there is a whole world of people living these blissful lives that aren't really true, or at least it's not a complete picture of life."
"We're all human," he added, "and, by definition, flawed."
Another major problem for parents asking for psychological help for children is shame, Mandler said.
"There's a pretty high social cost to coming out as a parent of a child with behavioral or emotional issues," he said. "That…
Work from home mom dedicated to my family. Total foodie trying new recipes.Love hunting for the best deals online. Wannabe style fashionista. As content editor, I get to do what I love everyday. Tweet, share and promote the best content our tools find on a daily basis.
Latest posts by Mayra Rodriguez (see all)