Growing up, I was 100 percent sure I'd be a mom one day. To a dog, that is. My baby plans came later. And once my husband and I were sure we wanted both a dog and a baby, we'd add to our joint dog-and-baby name list over Sunday brunch or on date night. Maybe that's part of why my dog and my unborn child are so attached now, even as I'm only in my second trimester. It sounds woo-woo to say, but I swear my dog knows I'm pregnant.
No, seriously! From the minute I got that positive pregnancy test, my nearly 2-year-old mini goldendoodle, Benny, started acting differently around me. He's always been a gentle, cuddly puppy, but now he constantly wants to lie on my stomach or rest against me while we're on the couch. He follows me around the house in a sort of protective way, and he photobombs every bump update picture I take — watching me as I expose my growing belly.
Benny also has always had this nightly ritual where he'll start off in bed with my husband and I, but eventually jump off and cuddle up to sleep the rest of the night on the shaggy rug in front of our bed. He likes his independence, what can I say? But for the past few months, every morning around 4 a.m. — or, let's be honest, whenever I happen to wake up to pee that night — Benny stares at me as I walk to and from the bathroom and insists that I pick him back up on the bed to snuggle until my alarm goes off for work. I not-so-secretly love it all. I mean, just look at him.
Nearly every dog owner who responded noted that their pup started to act more gentle and protective before or immediately after they found out they were pregnant.
But maybe it's not such a crazy idea that my dog knows I'm pregnant, right? If dogs can smell cancer, help alert owners when a seizure is coming, and detect when blood sugar levels spike or crash in diabetes patients, why can't they also sense when a woman is pregnant?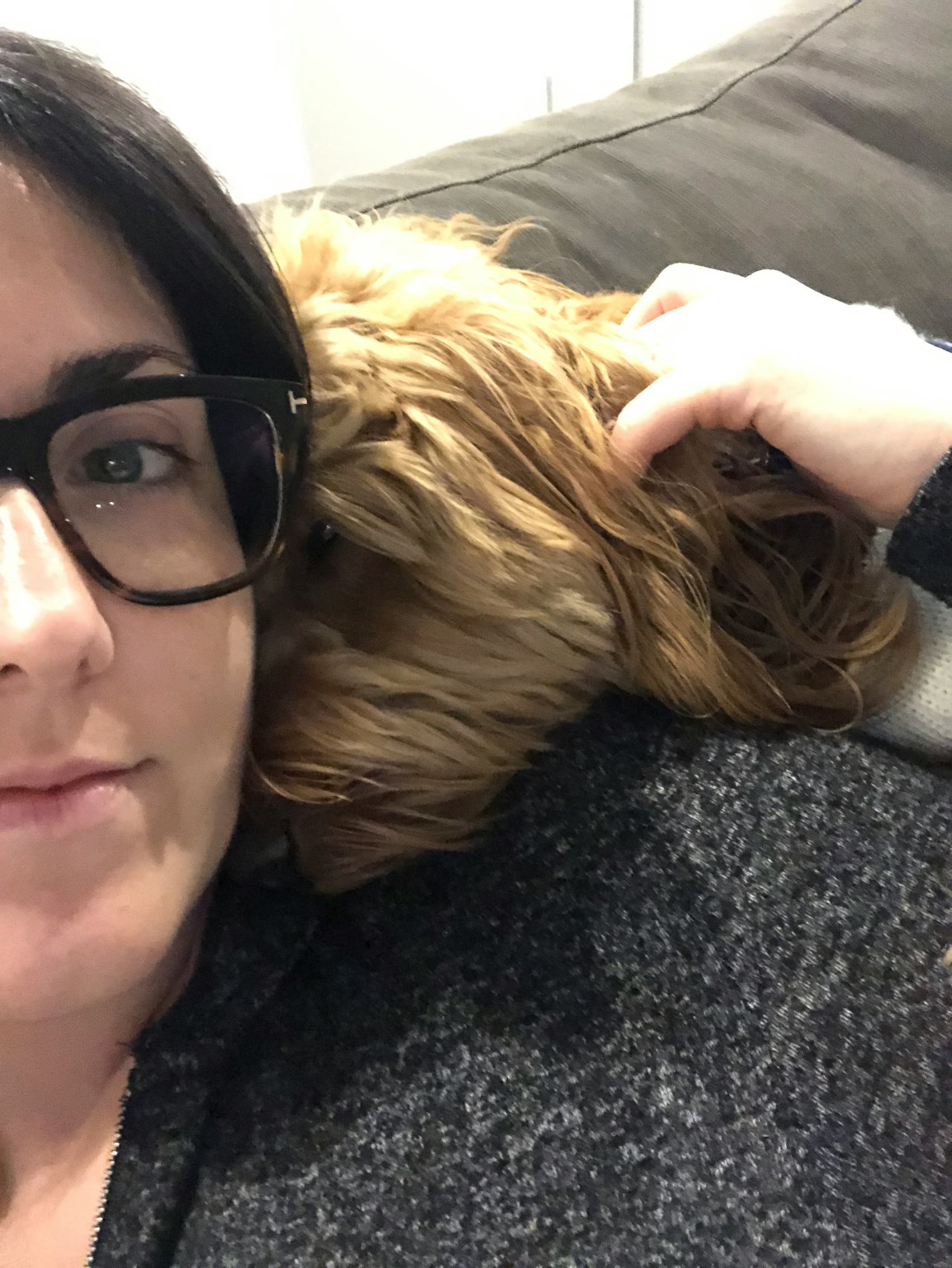 I took to my What To Expect app message board — as one does — and started to investigate. Almost immediately, stories similar to mine started to pour in.
"I didn't find out I was pregnant until I was 6 weeks, but for the few weeks before I found out both my dogs were being more clingy," one user wrote. "Always by my side, followed me around even more, and wanted to sleep next to my belly."
"My…
Work from home mom dedicated to my family. Total foodie trying new recipes.Love hunting for the best deals online. Wannabe style fashionista. As content editor, I get to do what I love everyday. Tweet, share and promote the best content our tools find on a daily basis.
Latest posts by Mayra Rodriguez (see all)