Being a parent isn't easy, especially when it comes to keeping your child safe. Even very basic parenting decisions, like choosing a sippy cup, can feel far too complicated.
"You face this dilemma where you just want your child to be able to drink of out something that's safe, but you're worried about the risks posed by chemicals in plastic, and you're worried about the risk of glass breaking. It's frustrating to feel like there aren't any truly safe options," said Laura Belmar, "Momtrepreneur" and Co-Founder of Mason Bottle. "
As a company, we want to make life less complicated for other parents. So, we designed a sippy cup made out of silicone so that parents don't have to deal with the Catch-22 decision between plastic and glass. What's really key about silicone is that you can have the peace of mind that it won't leach chemicals, but it's also virtually indestructible," Laura explained.
And although there have been health concerns around silicone products, particularly when heated to high temperatures as with silicone bakeware, Laura conducted additional research and found that silicone is safe when used in baby bottles and pacifiers. In particular, a 2012 study confirmed that siloxane (the compounds found in silicone that have raised safety concerns) does not migrate into milk and infant formula. The Results showed that no contamination was detected after six hours of direct contact with silicone.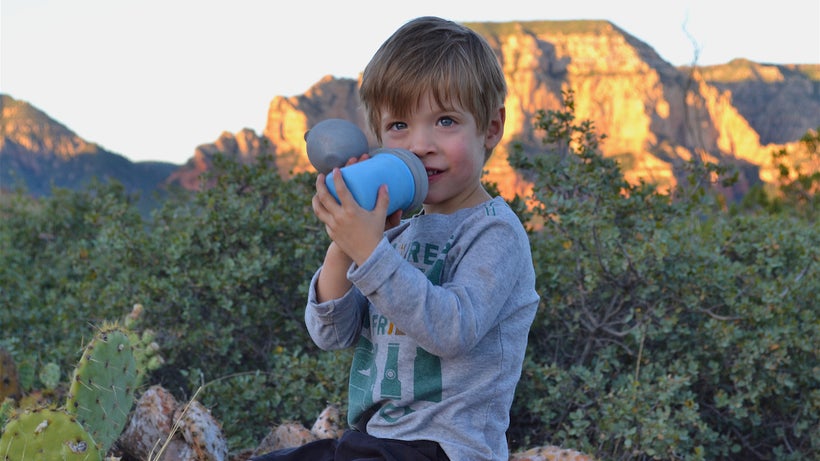 Why Parents' Relationship With Plastic Has Gotten Complicated
In 2012, the U.S. Food and Drug Administration banned baby bottles that contain bisphenol A (BPA), a compound frequently found in products made with plastic. The ban happened after manufacturers' responded to consumer concerns over BPA's safety. Several studies have since found that these chemicals mimic estrogen and could harm brain and reproductive development in fetuses, infants and children.
Parents are now seeing BPA-free bottles and other children's products being sold. Yet, recent research reveals that a common BPA replacement, known as bisphenol S, (BPS) may just be as harmful as products made with BPA.
"As parents, you think that it's safe if you buy something that says BPA-free. But, as more research emerges, we now have to worry about BPS too. No parent has time to constantly stay on top of which new version of plastic is safe. Raising our son, it was simpler for us to leave plastic behind and switch to silicone since it won't leach chemicals and is unbreakable," says Laura about the experience she shared with her husband and co-founder, Sebastian.
The Belmars are now taking pre-orders on Kickstarter to make their silicone sippy cup, "The Toddler…
Work from home mom dedicated to my family. Total foodie trying new recipes.Love hunting for the best deals online. Wannabe style fashionista. As content editor, I get to do what I love everyday. Tweet, share and promote the best content our tools find on a daily basis.
Latest posts by Mayra Rodriguez (see all)