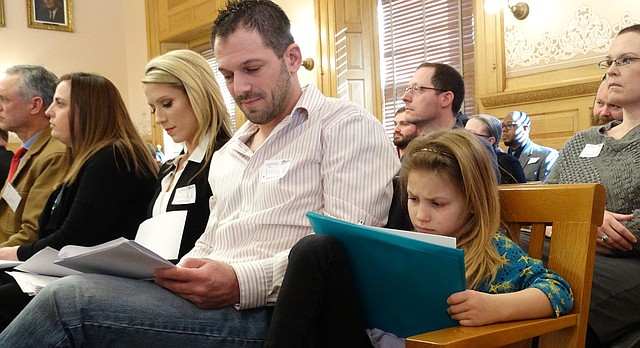 Topeka — A Kansas legislative committee heard passionate testimony Tuesday from people both for and against a bill that would require courts to order shared custody and parenting of children in most divorce cases.
Senate Bill 257 would create a presumption in divorce cases that children of the couple would spend roughly equal time with each parent, unless the parties have agreed to another parenting plan in advance.
Judges would be allowed to order other arrangements only if there is "clear and convincing evidence" that an equal-time arrangement would not be in the best interests of the child.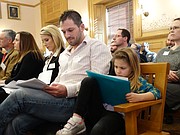 Joe Sessel of Topeka takes notes while also tending to his daughter Claire during a committee hearing Tuesday on a bill that would put more pressure on courts to order shared custody and parenting in divorce cases.
Under current law, child custody cases are governed by what judges determine to be in the best interest of the child. Parenting agreements worked out in advance of a divorce are presumed to be in the child's best interest, but judges have some latitude if they feel a need to override such an agreement.
The hearing drew a packed audience, including many single parents, some of whom had their children with them, who told about the difficulty they have had maintaining relationships with their children when they were allowed only limited visitation.
Paul Schwennesen, an Air Force veteran and a graduate student at the University of Kansas,…
Work from home mom dedicated to my family. Total foodie trying new recipes.Love hunting for the best deals online. Wannabe style fashionista. As content editor, I get to do what I love everyday. Tweet, share and promote the best content our tools find on a daily basis.
Latest posts by Mayra Rodriguez (see all)