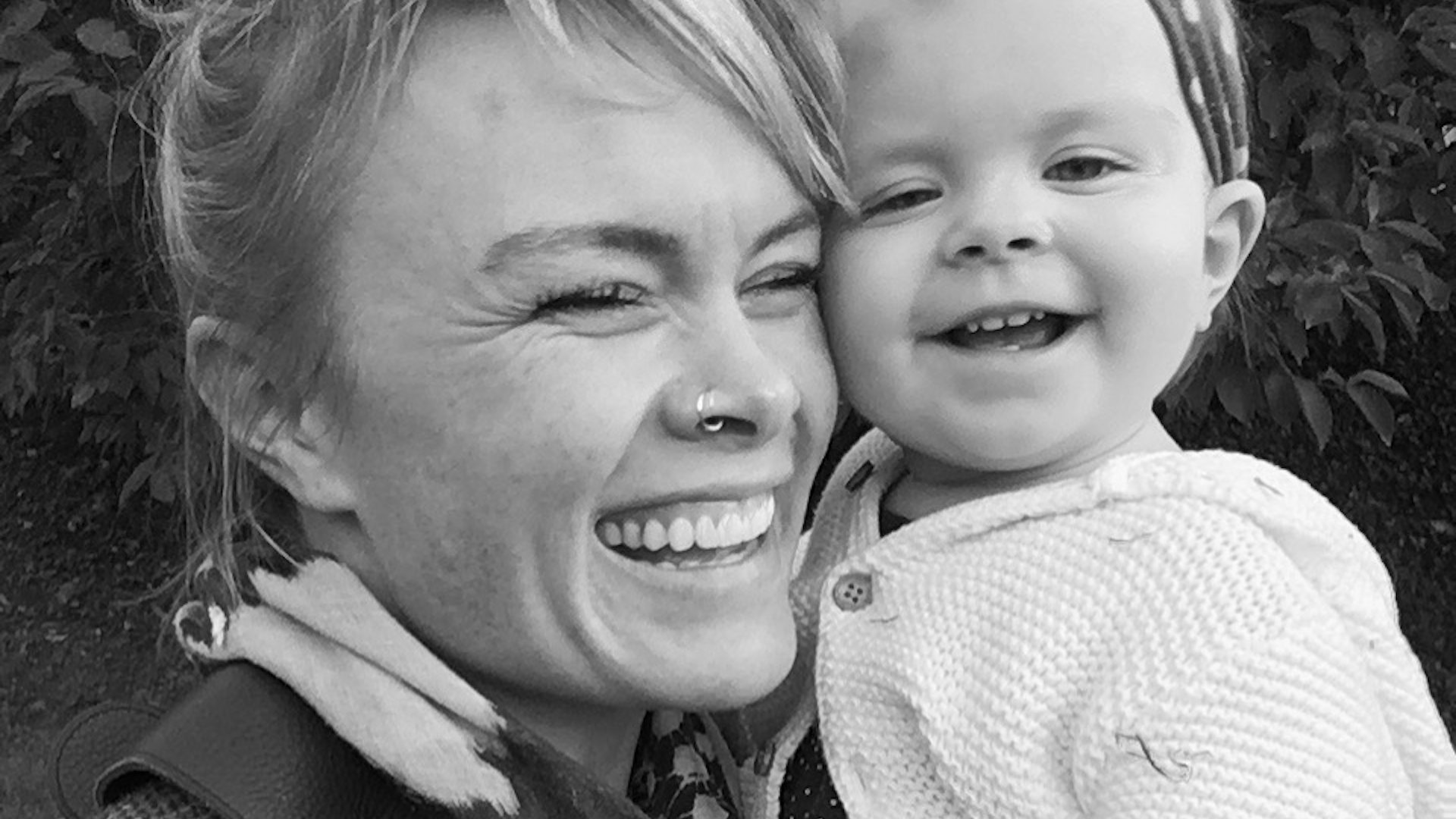 I finally, belatedly realized I was pregnant with my second child, when I, in a fit of feeling like an 80-year-old woman, made a tuna casserole for dinner one night and, upon smelling it in the oven, immediately felt like gagging. I'd been feeling lethargic and borderline depressed, but attributed it to the wave of overly cold, grey November weather that had descended upon Louisville. There I was: tuna-gagging, with dinner ready, suddenly pretty sure I was pregnant but without confirmation; it was frigid outside, and the idea of packing up my then-14-month-old to go buy a pregnancy test seemed absurd. And yet, I had to know. Right then. So we rolled over to the drugstore, bought a test, and came home to a quick two-minute, very affirmative YES that I was, indeed, pregnant.
I swear that test changed to a plus sign the very second I peed on it.
As a fairly self-attuned person, it seems mildly absurd I didn't know. But, also, we weren't trying, and I had just less than a month earlier weaned my daughter and still not had a period postpartum. I was what I like to call "casually" taking birth control, meaning, my once very systematic self, who had always taken her pill right on the way out the door to work, had given way to mild chaos of a stay-at-home mom life, taking my pill at increasingly varied times of day… and sometimes not at all. So the pregnancy was a surprise, but also not a surprise; I get how babies are made. We were always going to have another baby, and, in fact, I anguished endlessly about when the exact right moment in time would be.
A toddler and a baby always seemed insane to me. A toddler is, for all intents and purposes, a baby, who can run away from you. They need constant supervision, emotional support, and help with daily tasks, but they can also run weirdly fast for how short their tiny legs are. And a newborn is, in my opinion, the worst kind of creature around. I just did not love any moment of newborn life the first time around. Some of that, surely, was unaddressed postpartum depression. Some of it was, as my best friend likes to call it, the "identity assassination" that comes with the arrival of your first child. Some of it was just being really, unbelievably tired. At any rate, having a small person around and another even smaller person just seemed really insane to me.
But, on the flip side, getting too far out of this baby madness and then starting all over seemed pretty insane, too? Plus I really liked the idea of my kids being close in age, for their sake.
That's all just a long way to say; I anguished about the right time, and then life, strongly encouraged…
Work from home mom dedicated to my family. Total foodie trying new recipes.Love hunting for the best deals online. Wannabe style fashionista. As content editor, I get to do what I love everyday. Tweet, share and promote the best content our tools find on a daily basis.
Latest posts by Mayra Rodriguez (see all)