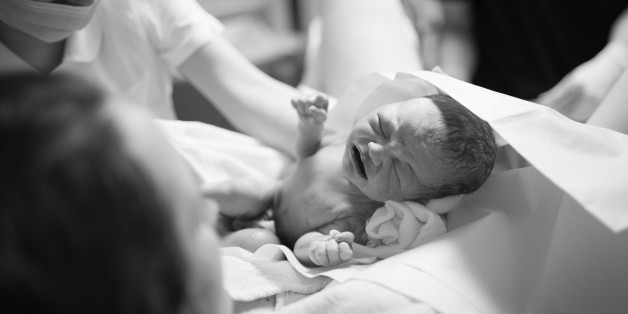 I happen to be one of the five people left in the UK who still watches Home & Away (what can I say, guilty pleasure), and whilst watching an episode last week where one of the characters goes into labour, I got really angry.
During the hypnobirthing course my husband and I did before having our baby, we learnt a lot about the history of the fear of childbirth and although there are other contributing factors to this, much of it comes from the media. If you really think about it, where does your perception of birth come from, apart from your mother and close friends? When was the last time you watched a program, even something as inoffensive as a sitcom, where a woman in labour didn't scream her way through it as if she was being ripped open by a demon child?
If labour ever is shown to be a non-traumatic experience that the woman breathes through, she is made out to be a crazy, unhinged hippy.
I honestly get offended when people tell me how 'lucky' I am that I had a good birth. It wasn't luck. I was in active labour for twenty-four hours with no pain relief. I had a choice on how I wanted that to affect me. I could have screamed my way through it, causing my body to tense and my labour to regress and therefore end up needing intervention, or I could stay at home for as long as possible, breathe through each contraction (and not call them contractions), have my husband with me performing all the techniques we learnt on our course, have calming music on in the background, eat and drink enough, have no negative influences anywhere near and make a conscious effort to make it a positive birth experience for me and my baby.
I really hope at this point that the women who ended up having emergency interventions don't get upset. This isn't about that. I am aware that anything can happen at any moment. This is not about who gave birth how, this is about how everything we've ever seen and heard has set us up to fear childbirth, to expect to need interventions including drugs (when in fact our bodies were made to do this naturally) leading it to therefore be a torturous experience, because how could it be anything but torturous if that is what we are expecting? Like with anything, half…
Work from home mom dedicated to my family. Total foodie trying new recipes.Love hunting for the best deals online. Wannabe style fashionista. As content editor, I get to do what I love everyday. Tweet, share and promote the best content our tools find on a daily basis.
Latest posts by Mayra Rodriguez (see all)