High-rise parenting is putting kids at risk as they are raised in apartment complexes that were not designed to house them and are often unsafe for small children.
The soaring number of families raising children in high-rise apartments in Sydney has highlighted the safety, technical and cultural flaws in many unit towers that were not designed with them in mind.
More than one in four apartments in Sydney is home to a family with children, the most recent census data shows. The number of families with kids in high-rise units more than doubled between the 2006 and 2016 census, while the number of families living in suburban homes rose just 4 per cent during that same period.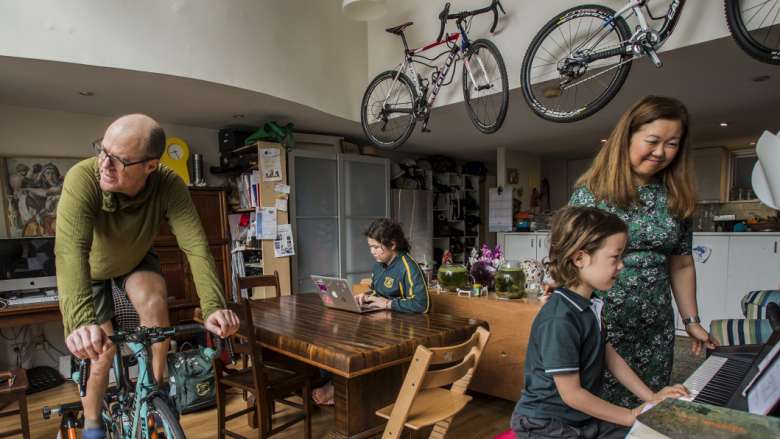 Sarah Imm and her partner Justin Smirk chose to live in a two-bedroom unit in Surry Hills with their children, Ofelia, 11, and Julius, 7.
"Our lifestyle is so rich [because] we don't have to clean, we're not gardening, we're not mowing the lawn, we're not travelling distances by car which can cause us to gain weight and affect our health," Ms Imm said.
Children don't 'belong' here
Yet experts warn that many apartment developments pose danger for small children as they were not built with their needs in mind. Families often feel unwelcome in these complexes too.
"An absence of consideration for children as residents of the type of high-rise we have in Australia at the moment is the issue," Dr Fiona Andrews, who has studied the health effects of high rise living on families, said. "Historically in Australia, apart from in public housing, we didn't have all these little people in apartment complexes."
Windows which open from the floor up (enabling kids to crawl out), unsafe balconies, traffic at the front door, car parks and car stackers are all dangers for kids, Deakin University School of Health and Social Development senior lecturer Dr…
Work from home mom dedicated to my family. Total foodie trying new recipes.Love hunting for the best deals online. Wannabe style fashionista. As content editor, I get to do what I love everyday. Tweet, share and promote the best content our tools find on a daily basis.
Latest posts by Mayra Rodriguez (see all)