It can be daunting for a mother to think about having another child after experiencing postnatal depression.
Chrissy Teigen recently opened up about her experience of the condition and said she wouldn't let it stop her from expanding her family.
"Maybe I should be scared [of having PND again]," she told Marie Claire. "But I don't know. It couldn't be any worse than it was, could it?"
We spoke to Donna Collins, managing director of PANDAS Foundation and Dr Raja Gangopadhyay, a consultant obstetrician with a special interest in Perinatal Mental Health (PMH) about how women facing this issue can cope.
"It is common. We hear from women experiencing this dilemma a lot," Collins told HuffPost UK. "They've had PND, are scared about having a baby and they panic."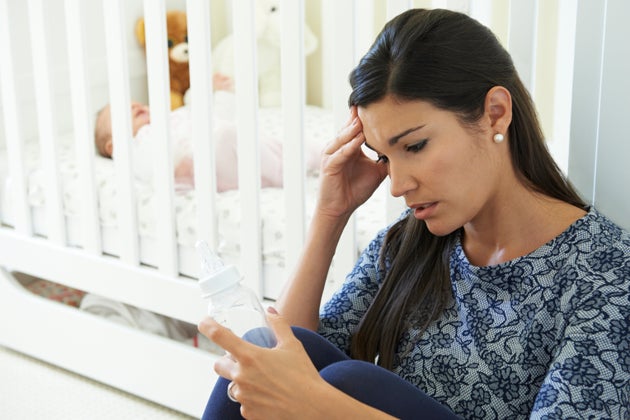 If I've had postnatal depression before, will I definitely get it again?
The simple answer is no. Collins said there is a roughly one in two chance that you are likely to develop PND for a second time.
"But there is no hard and fast rule," she said. "Even if you have had any mental health condition before, that's not to say you will definitely experience it again."
Dr Gangopadhyay said from his experience, PND is recurrent in about 25-50% of mums who have had it before.
However, this is a rough estimate, as he added: "Whether you'll experience PND again depends on so many factors. For example, how severe the condition was, if the baby was not well or any other circumstances surrounding the birth."
What should I do if I'm planning to fall pregnant again?
Dr Gangopadhyay said if women who have had PND are planning to have another child, they should take appropriate measures to reduce the risk of recurrence.
To do this, the first thing they should do is speak to their GP about planning to fall pregnant again.
"Your symptoms may be different the second time around," he explained. "So it's best to have medical advice as soon as possible."
Explain to your GP what your symptoms were before, how you felt and what support you received at the time.
I'm still on medication for PND, should I stop taking it?
"When women are still…
Work from home mom dedicated to my family. Total foodie trying new recipes.Love hunting for the best deals online. Wannabe style fashionista. As content editor, I get to do what I love everyday. Tweet, share and promote the best content our tools find on a daily basis.
Latest posts by Mayra Rodriguez (see all)