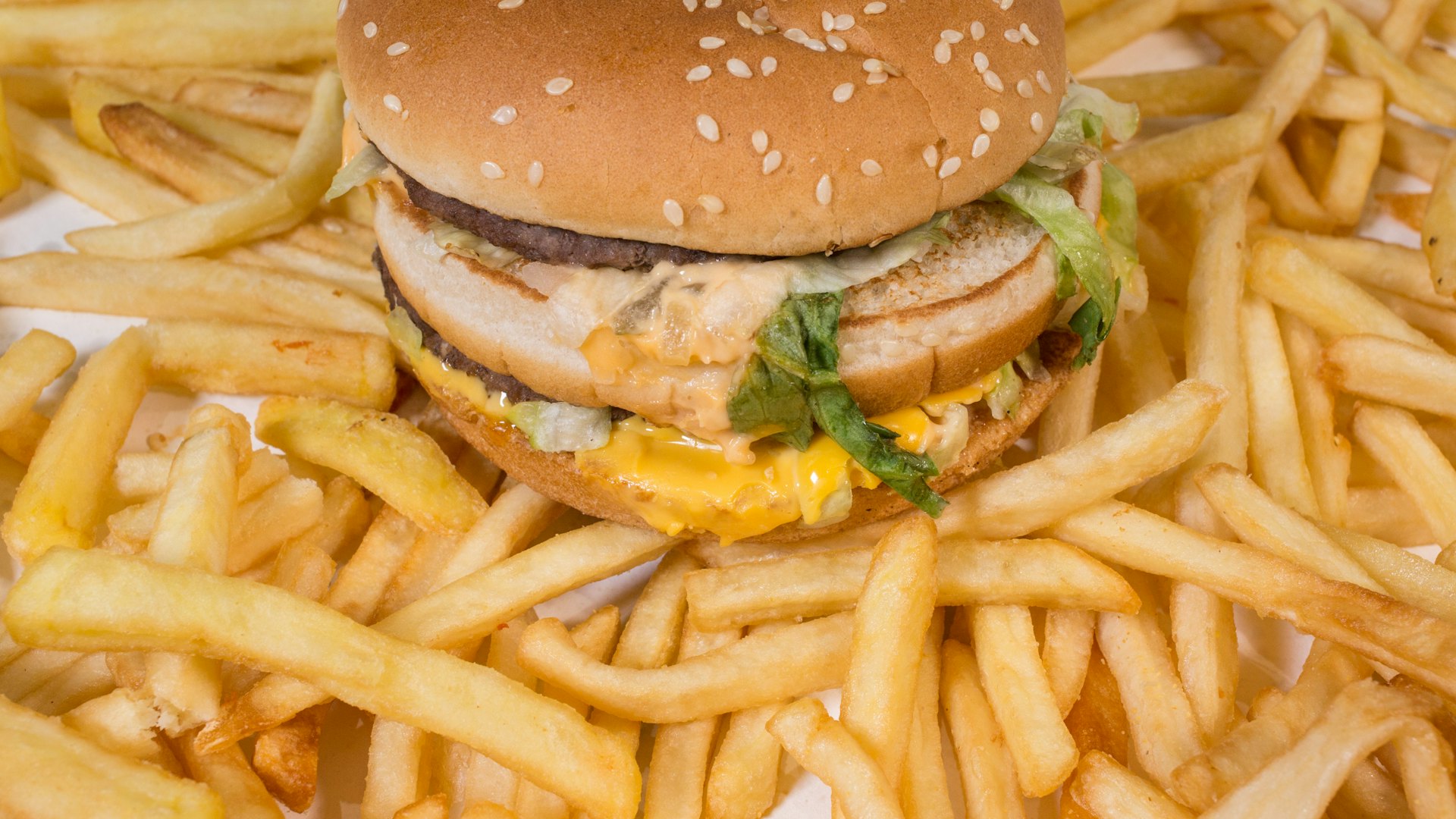 Matt Cardy/Getty Images News/Getty Images
You might want to skip the fries if you're trying to get pregnant. A new study has suggested that eating too much fast food could make it harder to get pregnant, so too many late night trips for burgers may not be the best plan if you're trying to have a baby. Researchers didn't say that it's completely out of the question, or that you won't get pregnant at all if you sneak some fast food now and then, but it does sound like it might take you a little bit longer if you have fast food too often.
In a new study, researchers compared women who never or rarely ate fast food and women who ate fast food four or more times a week, and found that those who ate fast food somewhat regularly took almost a month longer to get pregnant, according to ITV. That might not seem like a super long time, but when you're trying to conceive, any extra amount of time may seem like a lifetime.
But if you like fruit instead, and you're trying to have a baby, apparently you're in luck, as this study found. Women who ate fruit less than one time a month on average took about two weeks longer to get pregnant than women who ate fruit three times a day or more, the study found. Researchers at the University of Adelaide in Australia, which led the study, believe this proves that eating healthier foods helps with conception.
Dr. Jessica Grieger, of the university's Robinson Research Institute, who led the study team, said of the study and its results, according to NBC News:
It shows that healthier foods support conception, while unhealthier foods do not so much.
"Our data show that frequent consumption of fast foods delays time to pregnancy," she added, according to ITV. Which isn't great news if you can't live without your frequent fast food fixes.
The study followed almost 5,600 women in Australia, New Zealand, the United Kingdom, and Ireland who had never had a baby but wanted to conceive, according to U.S. News & World Report. Eight percent of the study's couples were classified as infertile — which meant that it took them longer than a year to conceive — while 39 percent of them conceived within a month.
And while, again, the study didn't prove that you should never eat fast food if you want to get pregnant, or that you need to only eat fruit to conceive, it did show that the risk of infertility among women with the lowest intake of fruit increased from 8 percent to 12 percent, U.S. News & World Report reported. Meanwhile, the risk increased from 8 percent to 16 percent among those who consumed fast food four or more times a week. What's that saying — "everything…
Work from home mom dedicated to my family. Total foodie trying new recipes.Love hunting for the best deals online. Wannabe style fashionista. As content editor, I get to do what I love everyday. Tweet, share and promote the best content our tools find on a daily basis.
Latest posts by Mayra Rodriguez (see all)