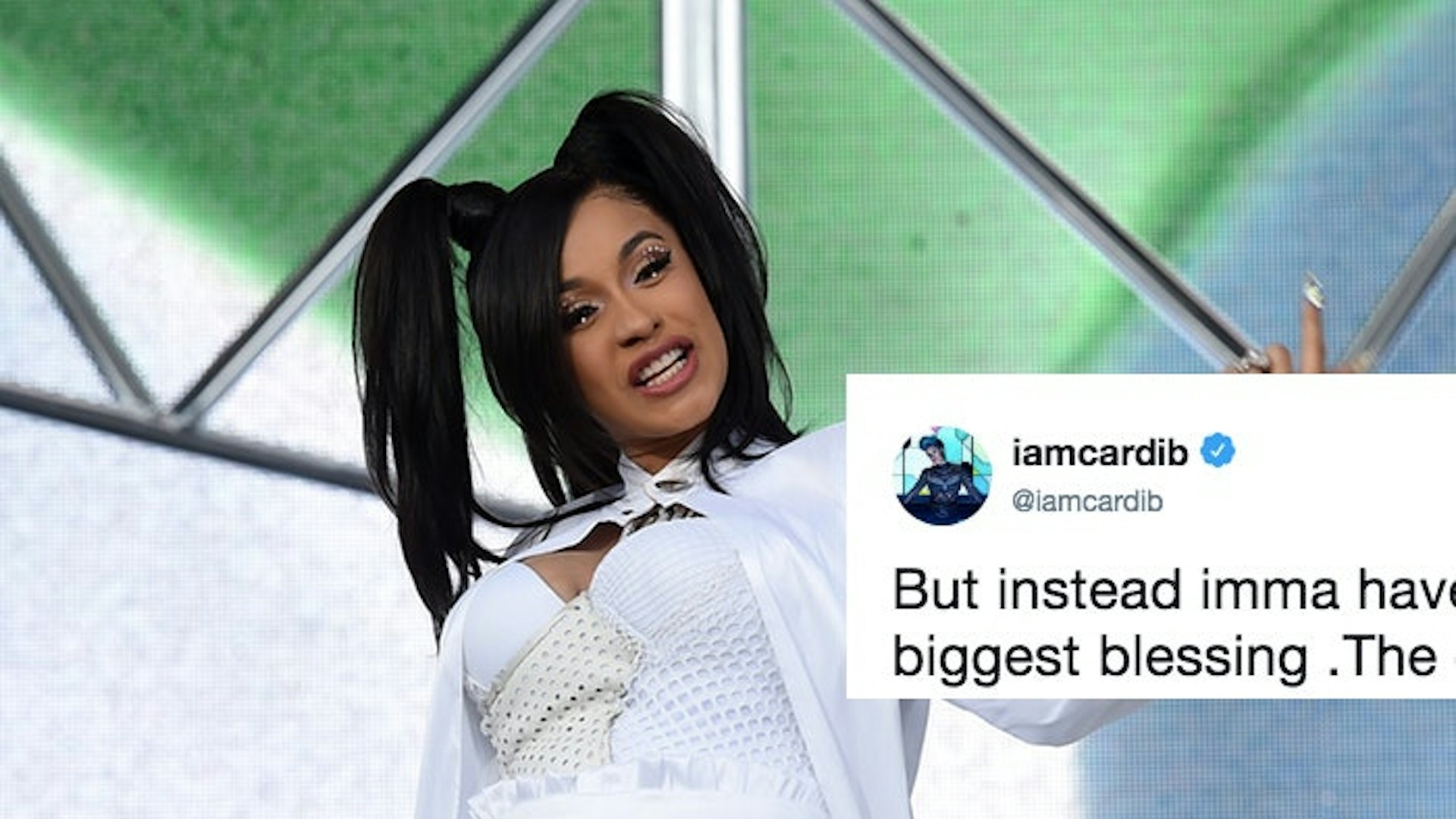 As soon as Cardi B announced that she was pregnant earlier this year, people began hating on her. You can't be one of the most famous rappers in the world and not expect haters to hate. Luckily, the Bronx native isn't afraid to take people on and stand up for herself when necessary. And Cardi B's response to someone criticizing her pregnancy recently is no different.
In a now deleted tweet, someone reportedly wrote that Cardi was at the top of the world until she got pregnant, as reported by BuzzFeed News. The Twitter user wrote, according to BuzzFeed News, that Cardi "would be goin' on tour right now, performing at the BET awards" and getting money." They added, "But instead Offset got her pregnant."
The idea that a woman can't have a successful career and want to be a mother is one of the oldest, most sexist criticisms in the book. Cardi took note, as she does when anyone has something negative to say about her.
She replied to the person who thought she should be out touring that "instead" she was going to have the "biggest gift" and "biggest blessing." Cardi added that her baby is going to be the one person she'd "always be perfect too [sic]." The rapper even shared that when she was feeling depressed recently, she looked down at her bump and "got happy and motivated again."
Cardi added in another tweet that no one should be concerned about her cashing in on her success, thank you very much. "And let me tell you something, I'm still getting this money … If only you know these deals I signed……
Work from home mom dedicated to my family. Total foodie trying new recipes.Love hunting for the best deals online. Wannabe style fashionista. As content editor, I get to do what I love everyday. Tweet, share and promote the best content our tools find on a daily basis.
Latest posts by Mayra Rodriguez (see all)