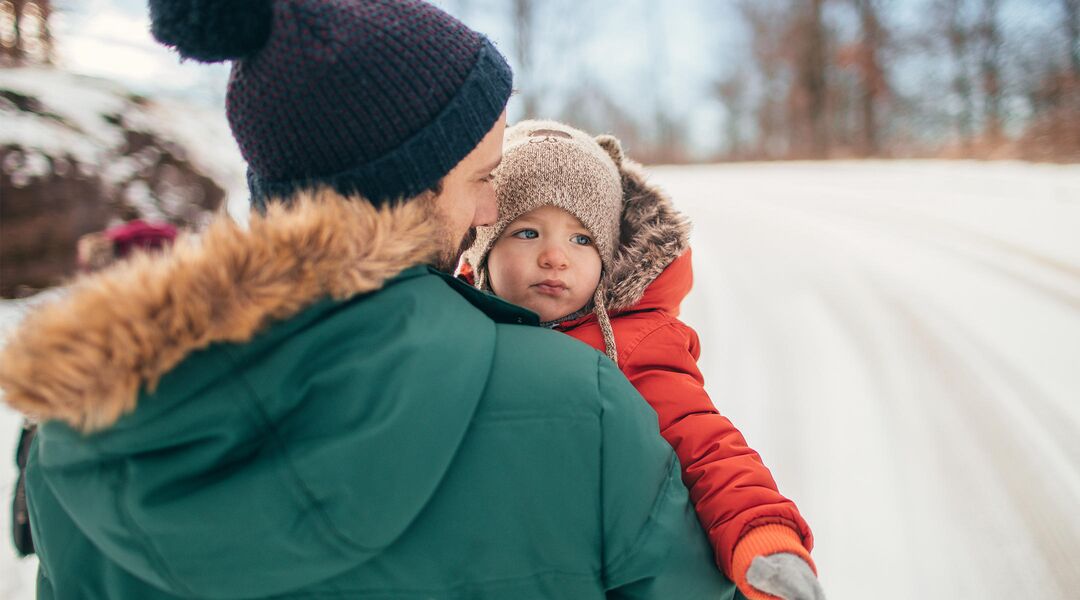 Meet Dina DiMaggio, MD, and Anthony F. Porto MD, MPH, official spokespeople for the American Academy of Pediatrics and the co-authors of The Pediatrician's Guide to Feeding Babies and Toddlers. Each month, they'll write about the latest AAP guidelines, studies and seasonal issues affecting babies and toddlers. Follow them on Instagram @pediatriciansguide.
Winter's not over yet! Getting through the bitter cold is challenging for everyone, but cold weather safety is particularly important for babies and toddlers. Here are our tip tips.
How To Dress
We often get asked how to best dress baby when going outside. Several thin layers will keep babies and young children dry and warm, along with gloves or mittens, a hat and winter boots or booties. For example, you can first put on tights, leggings, or a long-sleeved bodysuit/thermal underwear under pants, a top like a sweater or thermal knit shirt, and top it off with a thin fleece jacket.
A good rule of thumb is to dress a child in one more layer of clothing than an adult would wear in the same environment. If you're going out for a stroll and you are wearing pants and a shirt, a coat and a hat, then baby should be wearing his or her warm clothes, a coat, a hate and a blanket or bunting on top.
Even though it's cold outside, remember to continue keeping blankets, pillows and bumpers out of an infant's crib. Instead, dress your baby in footed pajamas, one-piece sleepers or wearable blankets like a sleep sack.
How To Play
Sledding
When taking young children sledding, it's best to sled on areas only covered with snow and not ice. Stick to hills that are not too steep (less than a 30 degree incline) and that end with flat space for the sled to decelerate. Try to keep young children separate from older children, away from bigger crowds and away from areas that are close to trees or cars. Sleds that are steerable (not snow disks) are the safest option, and the safest way to sled is feet-first or sitting up. (Lying down head-first may lead to head injuries.) We also recommend putting helmets on kids to prevent any head injuries in case a fall occurs.
Ice Skating
Make sure to only skate…
Work from home mom dedicated to my family. Total foodie trying new recipes.Love hunting for the best deals online. Wannabe style fashionista. As content editor, I get to do what I love everyday. Tweet, share and promote the best content our tools find on a daily basis.
Latest posts by Mayra Rodriguez (see all)