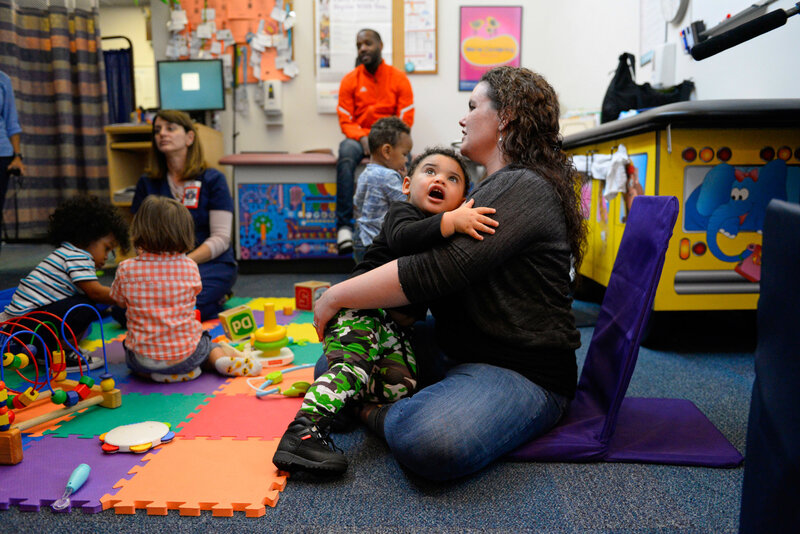 For most of her childhood, growing up in southeastern Pennsylvania, Kelly Zimmerman felt alone and anxious.
She despaired when her mother was depressed or working late shifts; when her parents fought nonstop; when her friends wanted to come over, and she felt too ashamed to let them see her home's buckling floor, the lack of running water.
Kelly tried to shut out those feelings, and when she was 18, a boyfriend offered her an opioid painkiller — Percocet.
Her anxiety dissolved, at least for a little while.
"It was wonderful," she remembers thinking. "Where has this been my whole life?"
Soon she was hooked, first on prescription painkillers and then on heroin. For years, Kelly was content to live — and, she says, maybe even die — on drugs.
Then, in 2016, when she was 26, she gave birth to her son Jaxton, and new feelings rushed in.
"I was in love with him," she says.
But it was hard from the start. Kelly was a single mom and grieving — the baby's father had died just months earlier from a heart attack. She was on methadone to treat her heroin addiction, which meant that when Jaxton was born, he went through opioid withdrawal.
"He was kind of stiff, tightening up his arms and legs" Kelly remembers. "He was a little shaky. And he had one of those high-pitched cries."
Jaxton had to spend his first weeks in the neonatal intensive care unit atReading Hospital. Watching him struggle, the new mother felt guilty and ashamed.
She visited every day and made him a promise: "I need to make this up to you somehow. I'm going to be here to go through this with you. If you have to be here, I'm going to be here."
Kelly was determined to do whatever it took to get Jaxton better, and to raise him well.
But federal and state statistics suggested that the chances she'd be able to do that on her own were slim.
In 2016, the year Jaxton was born, about 92,000 children were removed from their homes nationally because at least one parent had a problem with drug abuse.
After a decade of steady decline, the number of children in foster care had risen by 10 percent between 2012 and 2016, in large part because of the opioid epidemic, according to the U.S. Department of Health and Human Services.
And regions with higher rates of deaths from drug overdose and drug-related hospitalizations have higher rates of placements in foster care.
"Removal of a child [from its parents], while sometimes absolutely necessary, causes trauma in that child at a very early age," says Valerie Chandler, the former program director of the Berks Parents Services Collaborative Program, designed for mothers with addiction, at the Children's Home of Reading.
Studies show that many kids entering the foster care system go through long periods of instability, moving from one foster home to another, and often have long-term mental health needs that go unmet.
Babies used to routinely be put into foster care
Nonetheless, for many years in Berks County, new mothers like Kelly — fresh on the path of addiction recovery — had their newborns routinely taken away and put in foster care, often directly from the hospital, Chandler says.
The impact on the moms was devastating, too, she says. "Ninety percent of mothers went out and got high as a kite." And that, in turn, reduced their chances of getting their babies back.
To understand the spiral, Chandler says, put yourself in these women's shoes.
"So, you're a new mom. You were using opiates, and now, you know, the hammer's coming: The county's coming to get you; your family is going to be all over you. You're going to lose this child, and you screwed up. Throw in some new-mom hormones," Chandler says, "and you're a basket case. 'Oh, and by the way, don't use drugs anymore.' Right? Your one coping skill is gone."
The county's traditional way of handling these cases — common in other states, too — was inadvertently setting these women up to fail.
So, in 2016, Chandler and her colleagues got together with the county and other local institutions, like Reading Hospital, to come up with a different approach to help these mothers and their babies.
Instead of waiting for the baby to be born, the county's social workers would meet with each opioid-addicted woman during her pregnancy, and identify and enlist an extended network of family or friends.
To help the new mother retain custody of her child, the family would commit to supporting her in major ways — helping her find a way to stay clean and take on the new responsibilities of motherhood.
The collaborative adapted a program called Family Group Decision Making to help the pregnant women and their supporters develop a concrete plan — with clear obligations and consequences.
Of course, addiction strains family relationships, and some families need help repairing those bonds. The program works roughly this way:
County social workers put in hours of work upfront, interviewing the pregnant woman and identifying the members of her family or close community who will support her.
Next they interview each family…
Work from home mom dedicated to my family. Total foodie trying new recipes.Love hunting for the best deals online. Wannabe style fashionista. As content editor, I get to do what I love everyday. Tweet, share and promote the best content our tools find on a daily basis.
Latest posts by Mayra Rodriguez (see all)