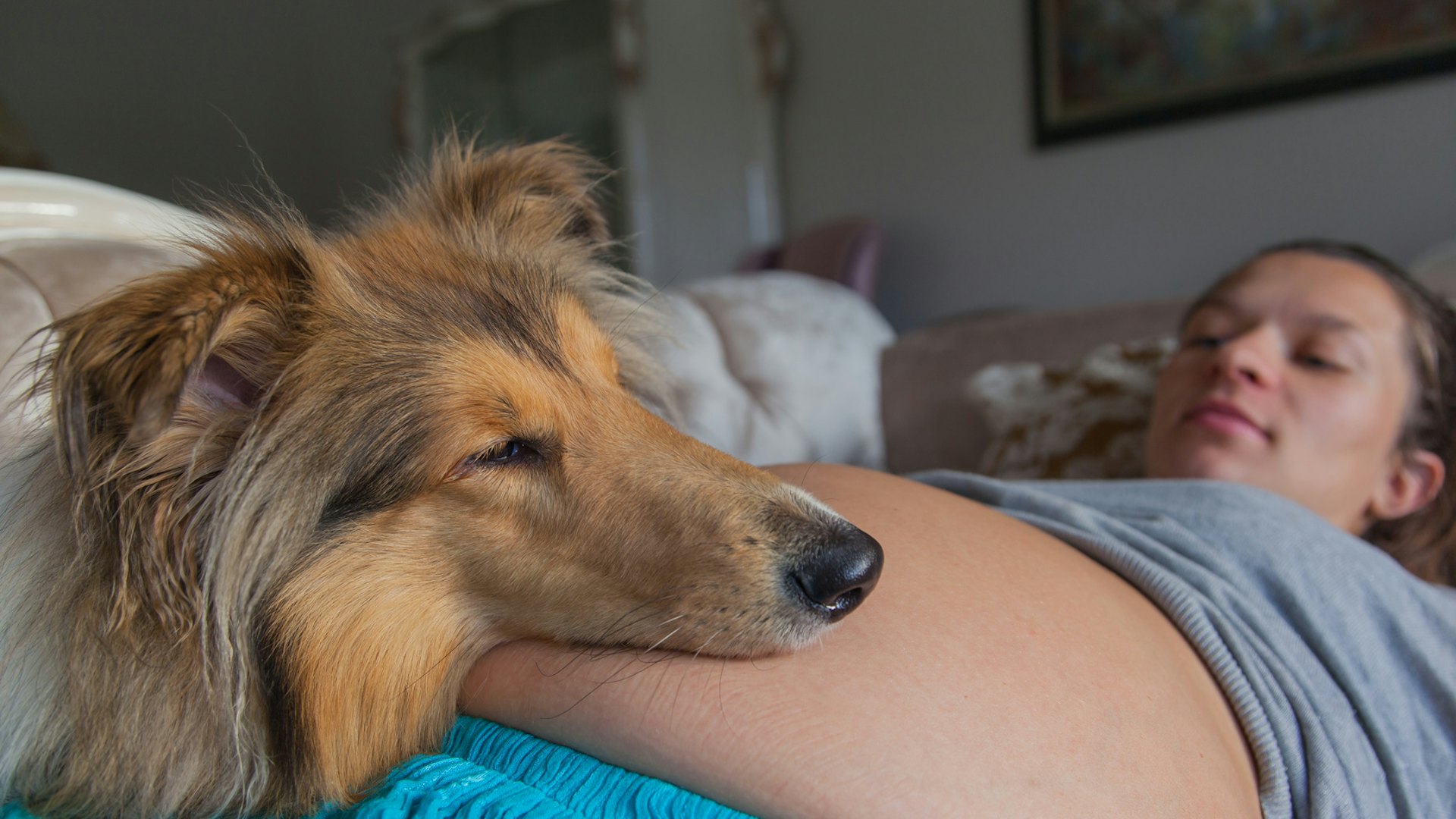 In case you didn't know, dogs are naturally intuitive. They can sense danger before it happens, sniff things out that a human nose can't detect, and instinctively know when you're down and out. And even the kindest, most even-tempered dog might show some signs of stress when you've got a baby on the way. So, if you're expecting, it's worth your time to pay close attention to the signs your dog has anxiety about your pregnancy, so you help them through this transitional period, too.
While some dogs are naturally anxious, others might only experience anxiety during times of change. Jennifer Shryock, Certified Dog Behavior Consultant, tells lifestyle website LoveToKnow that dogs "recognize subtle, and not so subtle, changes a woman's body goes through during pregnancy." In other words, Fido might react to, say, a change in your scent and shape. And when your body chemistry reacts with hormonal changes, your dog can detect the shift.
Likewise, once you start to show, your dog might react by either avoiding you or, just the opposite, wanting extra snuggle time and more of your attention. It may not always be so obvious, but here are some of the signs your pup is feeling anxious about your pregnancy and their future human sibling:
They No Longer Want To Be Near You
If, according to Woman's Day, your dog seems out of sorts, pay attention. There's a lot they're trying to tell you about your pregnancy — or about life in general — if you're watching and listening.
For example, if a dog who is normally always by your side is suddenly avoiding you, they might be adjusting to your pregnancy. Whether it's in response to your change in scent or shape, acknowledge…
Work from home mom dedicated to my family. Total foodie trying new recipes.Love hunting for the best deals online. Wannabe style fashionista. As content editor, I get to do what I love everyday. Tweet, share and promote the best content our tools find on a daily basis.
Latest posts by Mayra Rodriguez (see all)